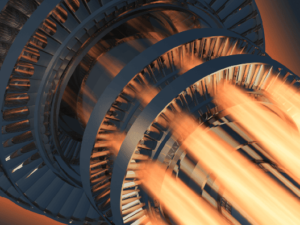 Gas Turbine Enclosure Lighting
The scenario:
A major gas turbine manufacturer was developing a new class of high-efficiency turbines and sought to address LED lighting and safety issues.  Known across sectors as "the industrial remote source lighting company," RSL was approached by the manufacturer to solve a problem when no other solution was available. Their challenge was to meet OSHA safety requirements for task lighting in gas turbine enclosures where complexities like high vibration, explosive gases, and high temperatures abound.
The problem:
Conventional LED lighting systems—even those with fixtures designed for explosive and hazardous environments—cannot operate in high ambient temperatures. Unfortunately, building interiors that contain gas turbines for power generation can exceed 100°C (212°F). Since the space must still be illuminated to allow personnel to safely operate, LED lights are often installed outside the enclosure with the lights shining through a window. This approach can leave areas very poorly lit and even out of OSHA compliance for related tasks.
The solution:
RSL leveraged expertise from years of remote source lighting engineering for military ships to design a solution that delivered illumination where the manufacturer needed while removing the light engine from the harsh environment. We built a proof-of-concept system first to ensure the manufacturer's required lighting levels could be accomplished in the desired area. Then as validity of the fiber optic lighting solution was confirmed, RSL built an industry-first lighting system that tolerates ambient temperatures at the luminaire in excess of 150°(302°F).
That technology today:
Since developing this lighting for gas turbine manufacturers in 2016, RSL has certified its use in more than 13 countries and delivered over 200 systems.
And we continue to advance it, utilizing new technologies and latest research to develop a Gen 2 system, which will equal or surpass the functionality of Gen 1 while reducing cost by at least 40%.  Stay tuned.