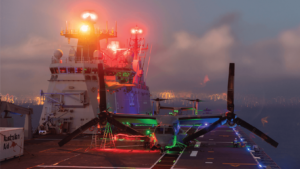 Topside Light Assessment for U.S. Navy Ships
The scenario:
The U.S. Navy sought a partner to evaluate their topside lighting configurations and modernize their specifications document to meet today's (and tomorrow's) standard.
The problem:
Specifications for U.S. Navy shipboard lighting were severely outdated: the DOD-HDBK-289(SH) lighting document was last revised in 1986 and couldn't account for new technologies within the lighting industry. All equipment installed topside on naval ships is exposed to salt air, salt water, temperature extremes, and mechanical stresses. And lights used for navigation, signaling, and illumination require frequent maintenance, are prone to damage, and can malfunction compromising the mission. This makes continuous spec evaluation critical to defense capabilities.
The solution:
Thanks to our reputation in developing innovative lighting for LPD 17 and DDG 1000 ships, the US Navy, through the National Shipbuilding Research Program, selected RSL to lead a team to evaluate topside light technologies and configure a baseline system to modernize the lighting specification document. The team identified primary issues and developed a blueprint based on fiber optic remote source lighting with laser diode sources and luminaires with LED sources.
That technology today:
The findings and recommended system will be used by NAVSEA to update the Navy lighting specification document.  NAVSEA engineering personnel is part of an international working group of U.S. allies who plan to follow the U.S. Navy lead in modernizing lighting and other ships' electrical systems.